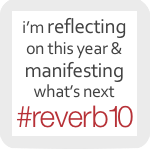 The organizers of #Reverb10 hope that it becomes an annual event, both on and offline.
Its purpose is to help participants reflect on the previous year and manifest what's next. They invited 31 authors to create 31 prompts that are meant to guide you along the month-long journey.
I've found it to be extremely helpful as I get ready to tackle 2011 and am grateful for stumbling across Sam Davidson's tweet about the project. I'm hopeful that this and other projects like it will help with clarifying how I approach life and the journey contained within.
Below you'll find links to the entries and the prompts that inspired them.
12.1: One Word | Day One, Two Words
12.2: Writing | Dealing with the enemies of my writing
12.3: Moment | Feeling alive in the breeze
12.4: Wonder | Wondering through 2010
12.5: Let Go | Letting go
12.6: Make | Making food (and time)
12.7: Community | The search for community
12.8: Beautifully different | The beauty is in the differences
12.9: Party | Where's the party?
12.10: Wisdom | Wisdom in trusting
12.11: 11 Things | Lighten the load
12.12: Body Integration | Enjoying the present
12.13: Action | Time for some action