It's difficult to claim wisdom about anything if your mind's cluttered.
That's one of the reasons that I had some trouble figuring out the best way to tackle Friday's #reverb10 prompt:
What was the wisest decision you made this year, and how did it play out?
The idea that I'd made a wise decision in the last twelve months was one that I found quite hard to comprehend. Susannah Conway's request didn't seem easily identifiable. Much of this past year just felt extremely cluttered.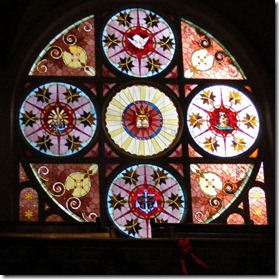 I've found myself looking up a lot of words during the course of this exercise, just because I want to make sure I truly understand what's being asked of us. When I started searching the Internet for a good definition of wisdom, it made it much easier to figure out what to write.
As I've mentioned before, I'm a member at First Church Birmingham, a United Methodist congregation that worships on a campus in the middle of the city's business district.
A little over a year ago I started attending our 8:45 a.m. Beginnings service as a way to reflect on the past week before I embarking on the journey into the next one.
A few months ago, I started a practice that has probably helped me more than anything else in my life journey.
Every week I write my prayer requests down on the back of my attendance slip. Those concerns in turn are shared with our church prayer team.
I've hinted that even when I'm in a packed room I can feel extremely lonely. It's been a rather crazy year, particularly when I realize that despite the numerous acquaintances, there are very few people that I can turn to for a deep conversation. Sometimes I wonder if it's the best thing to do – to share one's concerns and worries without knowing whose ears and hearts they'd fall into.
What if no one is reading them? What if the concern is seen as insignificant or petty? Would anyone really care about what was happening in my world?
Little has meant more to me in recent months than having members of the church's prayer team come up and ask me about what's going on. I've found that you can only begin to dream bigger dreams and move forward if you have a network where you can share the noise that's occupying your mind.
Holding on to your fears and concerns only keeps you from taking those leaps and chances necessary to eventually enjoy success.
No matter who you confide in or what you do to not hold concerns and issues in close to yourself, I can't think of any other way to help one make wiser decisions.
If that's not the wisest decision I made this year – to allow others to help (even if it was only a little bit) or at least know more about what's going on – I don't know what is.
Anyone feel like sharing their wisest decision?
Cheers.