Today's Reverb10 prompt got me (and all of the other participants) to focus on making things.
What was the last thing you made? What materials did you use? Is there something you want to make, but you need to clear some time for it?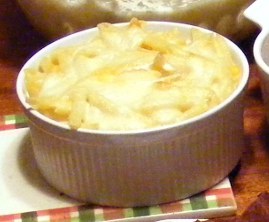 The last thing I made was macaroni and cheese for Thanksgiving. It was the first time in a while that I hadn't used ricotta cheese, relying instead on some sour cream, heavy whipping cream, an egg and remnants of cheddar and brie (from the Beaujolais potluck we'd had recently). Don't ever ask me about measurements – they only come in handy when I'm baking bread.
Incidentally, it was the first time I'd stepped in the kitchen to cook in some time (at least three months) – and I love to cook.
For a long time eating at home was never an issue for me because I'd just figure out something to make from whatever I'd picked up at the grocery store at the beginning of the week.
The weird thing is that the more stressful life became, the less I've wanted to cook in recent years, even though it was one of the best ways I found to relax. It was also a great way to make time to spend with Betsy or with those that came over to visit.
It's probably time to start looking at getting back to the joy of cooking as the New Year approaches.
There are a couple of things that I want to make in the coming months that will take some time.
One thing would be a chest of drawers for my clothes. When we moved from one downtown loft to another, I got rid of my old dresser because there wouldn't have been any room and we had enough shelves that it wasn't really needed. Needless to say that even after I get rid of clothes due to plans for weight loss by this spring, I'm still going to need a better way to organize my clothes. There are a couple of options here that could work, but I'd love to have something that was built for this purpose and maybe even something that I've built myself. Come to think of it there are a couple of chests that I'd like to refinish too…
The other thing I'd love to have time to "make" is a garden in our backyard. Gardening was a joyful release for me when I lived over in Savannah and while I took the chance to plant some shrubs in late October around the house, I'd love to have a more useful vegetable garden with flowers I can bring in to help brighten up the house.
There is one other thing I'd like to make, but it calls for a post all unto itself (and hopefully sometime this week).
What's the last thing you made? What are you planning to make next year?
Cheers.