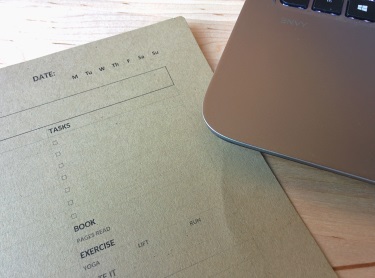 I promised those who asked about my day sheet last night during #wjchat that I'd share it. The focus of the July 2 edition was stress in the age of digital journalism. One of the ways I handle stress involves making sure I realistically manage expectations about what can be accomplished each day. The system operates on the principle that your day should be able to fit on the front side of one sheet of paper.
(Here are generic versions for your downloading pleasure: in .odt | .pdf).
I laid it out as a LibreOffice Writer document as a full-page table, merging and highlighting section headers as needed. I'm currently unsure as to how the .odt file will operate and open in Microsoft Word and know it will not open properly in Google Drive.
I stumbled across the StoryCraft Day Sheet while looking for inspiration. My version borrows heavily from theirs, though it allows me to track things important to me. Most notably, I decided to insert sections to track exercise, reading, and finances. It limits the number of tasks and connections I can attempt and helps prompt me to take a moment to focus on three things I'm grateful for each day. It reminds me to read — really important when attempting to prioritize and disconnect. It's also set up to allow me to see what days of the week seem to work better for certain tasks over the long term. One thing to remember — whether you use my file as a guide, purchase the pads from StoryCraft, or use something like the Storyline Productivity system link shared by Mike Roe during the chat — make sure it works for you and does what you need.
Part of the Sunday ritual I mentioned during the chat includes printing off seven sheets for the coming week. I was printing them on standard copy paper, but switched to the heavier craft paper weight (about 65 lb) to handle the pen strokes and to make it possible to use markers and colored pencils as I saw the need.
I started using this process in early June, and I'm still trying to figure out if sitting down to fill it out the night before or first thing in the morning works better. That said, it's definitely been helpful so far in terms of knowing how and when to approach projects and how much is truly manageable. I'm a lover of list-making, and limiting the number of things I can do in a day — at least on paper — has also made me more mindful of how I budget my time and what I choose to do with it. It's not like I had to give up using large pieces of craft paper on my wall to see my thoughts in front of me either.
It was fun to host on Wednesday and I hope this helps you determine what you need to streamline the workload and the associated stress.
Cheers.