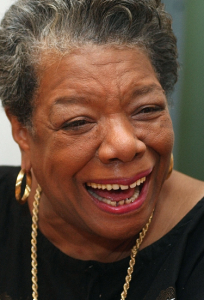 SCAD's spring 2014 commencement ceremony is coming up on Saturday, May 31. Knowing my alma mater as I do, I'm sure it'll mark its 35th year of existence throughout. For some reason, I was thinking about all the ones I got to attend while living there and found myself humming "When the Saints Go Marching In" to myself late last night and early this morning as I heard Maya Angelou once sing it. It's been part of me thinking about marking 20 years of living down south. Then I learned earlier today that Dr. Angelou had died at age 86.  Yes, there's a reason both things are connected in my mind.
If I'd stayed "on schedule" and in architecture, I was supposed to walk with the class of '98. Their commencement speaker was Dr. Angelou. She began and ended her address by singing that song. She chose to do so because she wanted us to see ourselves as "saints to those who are yet to come." I've used an image from her website here to illustrate this post, but the one captured by Steve Bisson of the Savannah Morning News that day gives a better representation of the spirit of the moment. I remember her having to leave shortly after completing her remarks to catch a flight. I also remember the significance of her words — and of her being chosen as the speaker.
At the time I found her musical selection (and coincidentally, the foundation of the address) ironic since one of my earliest memories of living in Savannah as a rising high school senior during the summer of '92 was hearing the House of Prayer brass band playing the song as it echoed along River Street where the Hyatt's enclosed banquet halls now sit. For most of the early years of being there as a full-time student, no weekend was complete without stopping by and hearing it being played — and enjoying the moment. I've found cases of writers block being solved after finding an extended performance of the song.
SCAD alum often look to the last weekend of May a bit more sentimentally than most. Those crossing the stage in the Martin Luther King, Jr. Arena (and, in recent years, Atlanta and Hong Kong) are marking the end of one journey and the beginning of another. I've thought of it in recent years as if we've been formally granted a license to tell stories with the images — still and moving — and words we share. It's a benefit I once wanted to trade in because of those who said not attending a liberal arts school meant a lack of being truly well-rounded. Many times, it's not quite what I thought it would be when I take a moment to look back at what's transpired, but oh the stories we get to weave and the rabbit holes we get to go down…
Angelou's address is still one of the most powerful commencement speeches I've ever heard, one that still moves me to action years later. Those of us in creative professions have an opportunity few get  — the chance to help tell a part of the world's story. The tapestry that results is precious, and occasionally we get to be held in high regard by our peers. Maybe we even get to be considered a saint, paving the way for those yet to come; sometimes, giving people a chance to take a look back as well.
Rest assured,  a saint has definitely marched in today — one that helped shape and tell the stories of many. I'd love to be a part of that number one day.
BTW, just in case you're so inclined, here's some Wynton Marsalis playing "The Saints" for you:
[youtube https://www.youtube.com/watch?v=u4XsokzJXEM?w=625]
Cheers.
Photo: courtesy of mayaangelou.com.