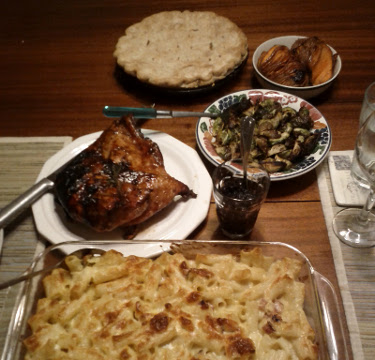 The past few weeks have seen folks on Facebook posting reflections on what they're thankful for this year. Some have posted daily; others have compiled lists. It's similar to something I felt compelled to take part in a couple of years ago thanks to Michael Chruchman of the Alabama Environmental Center.
Network television stations are asking folks to use hashtags on Twitter and Google+ to make it easier to share why they're thankful with others. I'm interested in seeing how #WhyIAmThankful will fare throughout the day…
We're thankful all year long, but holidays and the gatherings they encourage make it easier to take a moment and reflect.
There's also a lot to be grateful for this year. Like Javacia said in her Thanksgiving post, it's not necessarily original to post a list, but it's not like it's cliché either. So here's mine:
A roof over my head and access to food.
True friendship.
Betsy, for years of support and reasons to laugh & not lose faith.
My brother, because 2-hour phone calls & talking smack about basketball is just fun.
Boomer & Ed – two more relaxed cats are tough to find
Elaine & Mike, well, just because…
Brian Murkison, for his determination; and his brother Ben, who "questioned the well-educated and believed the impossible."
Finally getting to go on that train ride.
Friends with the courage to lead by example (I'm looking at you, Amber).
The support being shown to my hometown and the surrounding region as it starts to regain its footing after Superstorm Sandy.
They're quite similar to thoughts I had just a couple of years ago.
I'm also thankful for those of you who stop by from time to time. Best wishes to all of you on this Thanksgiving Day whether or not you're in the United States.
Cheers.
Photo: A reason to give thanks. acnatta/Picasa