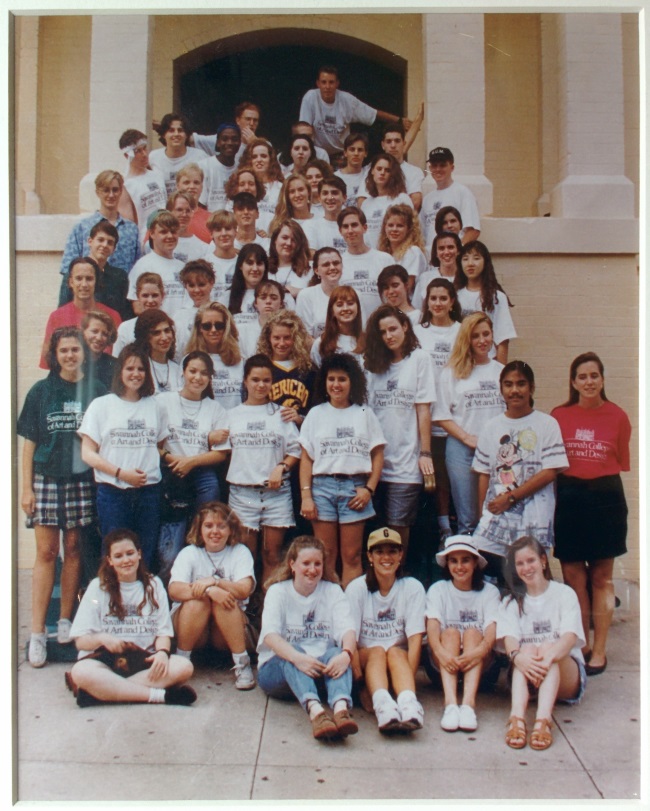 Yes, the photo to your left was taken a while ago — about 22 years ago to be exact. It's of the Savannah College of Art and Design's Rising Star class of 1992*. This isn't about it (or the other ones contained within), but about what it represents to me (and the reason it sits framed on a wall in my home office).
We spent our five weeks in Pulaski House (making the guys in the photo some of the only men able to make that claim) as the first season of MTV's "The Real World" was going strong and the 1992 Summer Olympics played out in Barcelona. More than half of the participants pictured returned a year later to continue pursuit of our degrees (plus one not shown).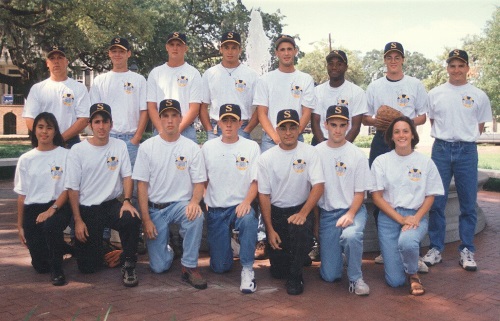 One of the coolest things about attending a school where the mascot's a bee is knowing you aren't part of a Nation, but a Hive — at least, that's what I've always called it. It  seems to fit the chaotic atmosphere that can envelop the college's original campus and it's kind of cool to be able to have a distinct name for your own collective. There were no fraternities or sororities to speak of (and they still don't exist) — though some could make an argument for the rugby team partially filling that role (another story entirely). We had those in our major and those we befriended in foundation classes and extracurricular activities to lean upon for support and camaraderie. I've even managed to stay in touch with a couple of folks pictured here that never returned to SCAD. We all, while scattered in our areas of focus, understand we all work towards a common goal of sharing our gifts with the world.
While we've found ways to stay busy after college, we've also found ways to stay connected. Yes, there are many who will see this via an online network, and it's a nice way to virtually drop-in on someone. Here's the thing though — I've found myself in several actual conversations (even face-to-face ones) with fellow alum during these last twelve months and always when I've needed it.
Whether it's over brunch in Charleston, SC; a random crossing of paths at a tiki bar in Atlanta; talking about being Happy in Augusta (resulting in a daily source of encouragement); or a phone call at lunch time (as happened today) just because there was a window of opportunity and we hadn't talked in a while, we like to connect and be there for support. I've chances to catch up with friends I hadn't seen in years within days of each other. They called up out of nowhere, but it was at just the right moment…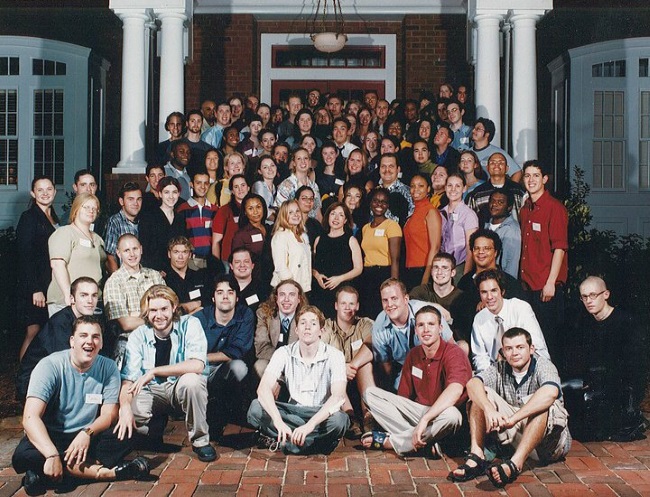 The Hive is always there, ready to offer a place to crash, friends to talk with while in an unfamiliar city, the unlikely business or social connection, and someone who probably understands what makes you tick and why better than most. It's never felt forced or obligatory; it's always felt like family — the ones you get to choose.
I've recently seen a great deal of chatter online about helping students prepare for life after SCAD. My advice? Make the most of your life at SCAD (or any college). The memories and friendships you collect while there will get you through some of your darkest moments and be there to help you celebrate the great ones too. Plus, it means you'll always have a connection to something that just always seems to know when it needs to step in and help. It's a little on the freaky side, but it's less so when you experience the benefits.
Cheers.
*Yes, that would be the Savannah campus. There are others? 😉