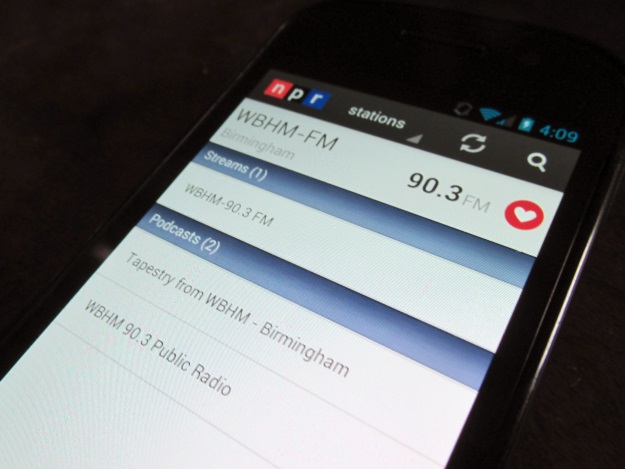 Let's cover the basics first.
Next Thursday, April 24, if you're listening to our local NPR news station WBHM-FM between 7 – 9 a.m. CT, you will occasionally be hearing my voice ( as well as Pascal Caputo's) coming out of your radio, approved portable electronic device, or computer speakers.
If you're so inclined to tune in just because you want to hear what we end up saying (I'm looking at you, Mom & Ainsley), you can always click here and hope nothing crazy happens.
I'm also hoping that you'll take the opportunity to make a contribution to the station in honor of my time on the air. My goal is to raise as much money as possible in pledges before I even walk into the studio. You can even do so in advance via this handy link, or by calling the station at (800) 444-9246 and asking that your pledge be credited to my name.
Why am I doing this?
Well, I'm a rather geeky fan of public radio. I've got the NPR News Android app on the phone and the tablet (with WBHM set as not only a favorite but the default station). There's a dedicated column in my Twitter client, Tweetdeck, just to keep up with the WBHM Twitter account and NPR senior strategist Andy Carvin (you really do need to at least have him in a list if you don't already). My week isn't complete without hearing the latest episodes of "Wait, Wait…" and "This American Life." I was happy when I found out in college that I wasn't the only one having a "driveway moment" when a piece captured my attention.
It's probably representative of my belief that public radio in general, and WBHM in particular, is an important community asset. That's why I'll be taking a break from my normal morning routine to help raise funds for the station. Monies raised will be used to pay for national provider direct programming and expenses related to station-produced programming and services, including the Alabama Radio Reading Service for the blind and the station's own award-winning news coverage and analysis. There's even this guy I know who we interviewed for The Terminal last summer who recently brought home one of those awards. OK, so he brought home a lot of them…
I'd like to invite you to support a station that listens to you, hoping it can give you a few more driveway moments for the memory bank. Thanks in advance – and (to borrow a popular phrase but only for a while) I'll see you on the radio next week.
Cheers.
---
Also published on Medium.