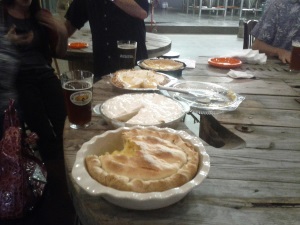 I'm having a tough time deciding between making a vinegar pie or a sweet potato pie based on recipes by Nancie McDermott in Southern Pies for this coming Thursday.
Why? PieCampBham, of course.
It's become a rather unique part of the lexicon of The Terminal. I started getting emails about it during Christmas. This year we'll even be at The Edge of Chaos – yes, seriously. It's a chance to check out one of the newest collaborative spaces in Birmingham, AL and chime in on what should be a very interesting conversation about what's next for Birmingham's hub. If you're game to making (or purchasing) a pie and coming out, head on over to our event listing and RSVP. It'll help me determine how much coffee I've got to make.
It'd be nice to see who normally ask what it is I do, whether I know them from church, chance encounters, or tweets, since I'll be answering that question in depth. Plus, there's pie! Well, how much pie and/or coffee depends on how many folks decide to come on out, but I digress…
I've written about the event in the past over on Urban Conversations and The Terminal, but never here. It's a problem when maintaining several sites – you never know if you've covered all of the angles. You also begin to realize you're never going to get back to "where you were" in terms of connections.
Despite originally having feelings to the contrary, I'm trying to focus on the lesson I shared three years ago when this approach to celebrating an online community was first spawned.
Don't let folks not let you have fun.
It's a long story, but there have been a few detours in recent months that have reminded me why I hopped on the hyperlocal bandwagon in the first place.  I've posted sporadically since while having more meetings than I thought possible with folks about how to move forward. It's probably best described as holding community meetings in advance of making public improvements to the structure. The approach is a holdover from some of my old jobs – one still serving me well.
Conversations with other community news site operators in other cities (with more tentatively scheduled in the coming months as the changes begin rolling out), leads toward being more deliberate and observational with the site's focus. The ideal situation involves getting those in attendance on Thursday evening to weigh in on some pretty heady discussions I've had and decisions I'm considering, including:
Thoughts on a pending partnership with a print publication and/or whether or not it's possible to produce a monthly long form based product in-house;
Establishing a more diverse financial structure focused on voluntary subscriptions and several community-focused workshops/events;
Whether  we move forward as an LLC or a 501 ©3 media organization.
A positive future for Birmingham, AL begins with a deeper look at what some recent and planned developments mean for it and the region. It means engaging the human spirit (& capital) contained in Alabama's Magic City in such a way that it continues to respond positively to those changes. It means slowing down and digesting what's happening around us.
A frank (& brief) discussion about the list above helps move towards the goal of accomplishing the current internal punch list before April 30. It'll be brief because, well, there's pie! There will also be some additional opportunities for those interested in helping advance the ball; if you're already interested, let me know in the comments below.
The time to look forward starts Thursday though, so I look forward to seeing some of you then…