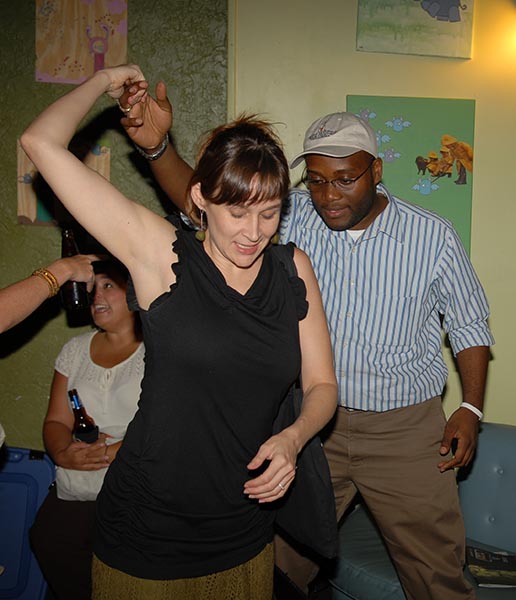 UPDATE – 3/14/2011: We decided to have some fun for the 4th anniversary – in the form of PieCamp Birmingham!
This picture is probably the one that I still enjoy the most from that day back in August 2007. I didn't know it'd been taken until some weeks after the event had passed.
Susannah Felts and I are just dancing around enjoying the music at The Bottletree. We'd been collecting phones for Verizon's HopeLine program and pop tabs for our local Ronald McDonald House as folks came in.
Oh yeah, and we were having fun celebrating the official launch of a website – one about Birmingham.
That launch party took place a little more than six months after the first post ever appeared on bhamterminal.com. The timing of the post and the topic – the proposed demolition of the longtime home of The Birmingham News – was ironic since it occurred on the paper's birthday – one that we now share with it.
The domain name is to be renewed this week, leading me to reflect on the last four years. This last one has been quieter than previous ones, despite the fact that the site began to get noticed outside of Birmingham.
I figured it's also a great excuse to look back at what I've learned – the good, the bad and the ugly.
It's supposed to be fun!
That photo reminds me of the fun that's supposed to be associated with operating a site like The Terminal. After spending five years in economic development and seven in hospitality, I had a fairly decent business plan. I knew enough folks who saw this as a really cool opportunity to create a site that would speak in all of Birmingham's voices over time. But most of all, I'd looked forward to a chance to be another part of a collection of great people making sure folks knew what was going on in the city.
I got an invite to have beers with Stanley Holditch of Fleabomb; Shortly after the launch party I had lunch with Russ McClinton of Urbanham. Folks were welcoming of another place for voices in the community. It wasn't so much competition but an opportunity to take a different look at what was going on.
We were probably supposed to be worried about SEO and page rank, but I'd argue that good content trumps most of those things every day; it definitely proved to be that way early on. Unfortunately in recent years I've let things like click through rates dominate my thinking. It led me to worry about things that I shouldn't have been worrying about. It's kept me from enjoying the site. It's probably also kept me from being able to convey to folks just how important is was to have several different voices on The Terminal.
I already had a personal site to write my thoughts on – this one.
What I learned over time was the joy of doing the site began to fade – the fun quotient if you will.
I also found myself trying to please folks that weren't the ones I wanted to necessarily reach anyway.
Lesson: Don't let folks not let you have fun
I think back to how many times folks have said it's that Terminal guy knowing that I wasn't a big fan of the phrase. Those moments weren't fun because I'd always hoped that it would become something that I'd started but not dominated. Apparently I've still got some time to make sure that observation doesn't stay true…
Despite the fact that I'd often found myself telling prospective business owners in Savannah and Birmingham that success takes time, I'd let myself be told that it wasn't happening fast enough.
The online world is one where people will attempt to tell people exactly how to do things instead of providing some guidance in terms of best practices and letting folks find their own way over time.
I'd also argue that you need to find individuals to lean on who've actually gone through the specific trials and tribulations of operating one of these sites. For a long time, I didn't have that network available. Finding ways to connect with folks – both on and off line – has been extremely beneficial.
It was also important to remember why I started the site to begin with. It was about making people aware of things that were going on around them that might not be talked about elsewhere. Stay true to yourself and the rest becomes a lot easier to do – or to walk away from if it's become more about "whose kung-fu is the best."
Somewhere over the rainbow…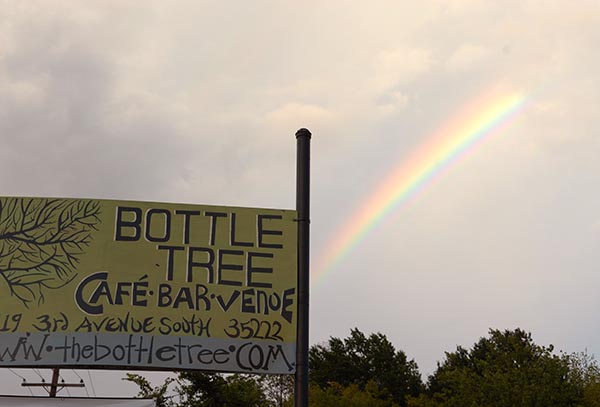 There was another photo that I enjoy from that evening in August. People who attended the party to this day remind me about it and those who still care deeply about the site whenever I feel down (which has been quite often in the last two years).
Every time I see this one I'm reminded of what's possible and why I got into this in the first place. It wasn't necessarily to forcibly change the world – it was to change the world by reminding folks to slow down every once in a while to enjoy the view.
I'd say that I'm finally getting ready to see the pot of gold at the end of the rainbow – it's just not what others need. I'm fine with that – and hope others realize what they need and not what I think they do.
I've got some specific examples of how I'm starting to have fun again that I'll be posting to Urban Conversations this evening. Take them for what they're worth – a place to start from.
You could of course add your own suggestions below…
Cheers.
Photos: Bob Farley/f8Photo