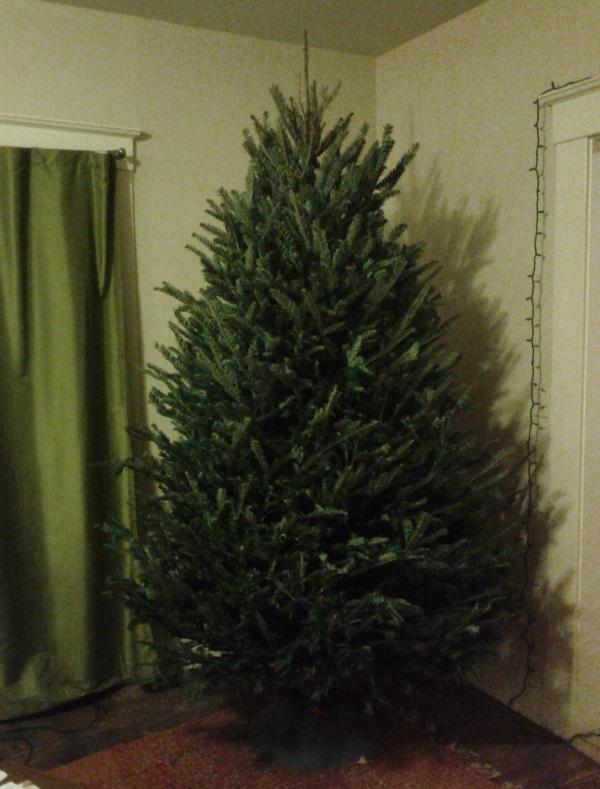 The holiday season contains several traditions and rituals for folks. For most of my life, the idea of holiday traditions were relegated to Thanksgiving. I'd head downtown for the Macy's Thanksgiving Day Parade and then stop by my uncle's apartment near Columbus Circle for pizza and a chance to warm up after standing out on Broadway for four hours watching the balloons float by.
Having nurses for parents meant that for some portion of Christmas Day one or both weren't there. You can't get too upset when it sinks in that they're helping other families enjoy their holiday. It did mean though that Christmas has always had an evolving meaning to me. It was essentially the midway point between two significant celebrations – the birthdays of my maternal grandmother (22nd) and my brother (28th).
The closest I've come to having a Christmas tradition in recent years involved heading out for Thai food with one of the families we attend church with whenever Christmas Eve didn't involve driving up to central Ohio or New York City. This year it didn't happen (though Bets and I still ventured out to said restaurant and ate). This now means the longest standing Christmas tradition in my life involves getting a real tree (making it a real gift to me since we learned early on that Betsy is allergic to live trees).
They've come in all shapes and sizes, including a 11′ one that graced the bay windows of my apartment in Savannah's Victorian district (I still wonder how I got that one home on the top of a 1995 Hyundai Accent);  and the first tree we ever had here in Birmingham (a pretty nice view from the other side of the street looking up). This year we also learned just how hard it can be if you decide you're able to hold onto the tradition at the last minute.
I guess I've been lucky that neither of my cats seem to enjoy attempting to venture up into the tree as it sits there, content just hiding underneath it. They do spend a lot of time just staring at it. It's similar to what I tend to do – especially if I stop to think about the decorations on the tree.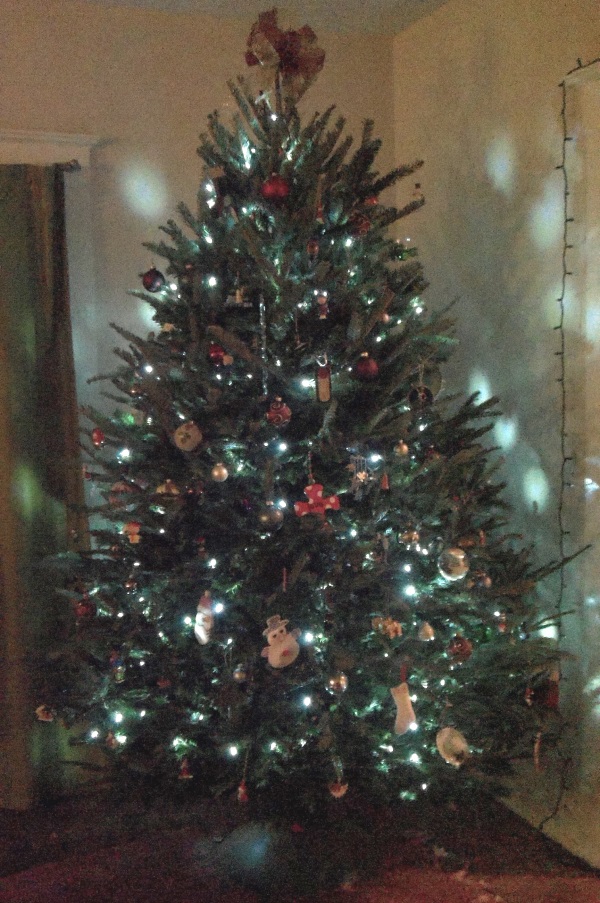 There's the one from Betsy's nephew Jake, a snowman with a top hat. We have one of Vulcan given to us by our old neighbors Jay & Amy that's mooning a Charles Buchanan original – of a moon. The Hallmark ornament my grandmother gave me in 1978 hangs out with the first ones I ever bought for myself back in 1994; I wanted my apartment on Gaston Street to look festive for New Year's Eve. The replica of Biltmore still holds a place in my heart as do ornaments celebrating my love of baseball (Lou Gehrig) or movies (It's a Wonderful Life).
The Christmas tree probably serves as one of the best visual cues for memories that exists in my life. It can transport me back to being five years old (or 25) while reminding me of pivotal moments in my life. It reminds me of what I've been able to do and that getting back there isn't as hard as some would make it seem. A lit tree can remind you of how much you're loved you when you're not sure.
As much as I'd love to have more traditions, I enjoy being able to open a box and let the light shine back into my life each December. We're supposed to be holding onto that light all year long but it seems to find more ways to slip just out of reach when you need it the most. This year realizing it doesn't have to be put back into a box when some of the triggers are is quite powerful indeed. It's probably the best tradition to come out of 2012.
That light is quite powerful and long-lasting, even as some traditions fade away into obscurity. I think I'd take that any day of the year. What about you?
Cheers.