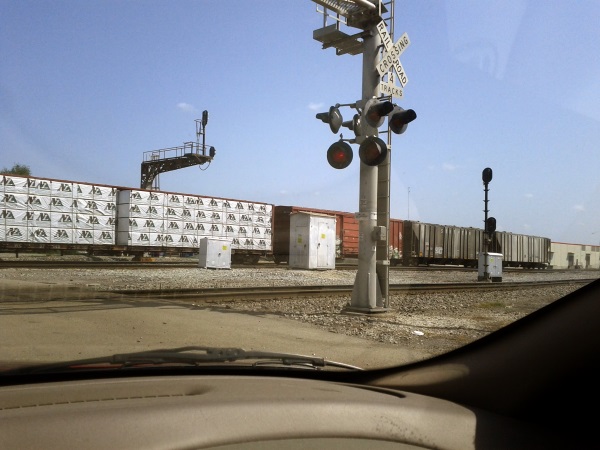 There was a time when I'd get to a railroad crossing and always turn around to find a faster way through. I figured it was the wisest approach so I wouldn't miss anything. That changed once I moved into Jones Valley. There are times when the most logical way to go is straight ahead, even if it means waiting for a little while. I'm constantly seeking patience though I think I've been given several opportunities to learn what it's supposed to be thanks to waiting for the train to pass…
Twenty years ago I was halfway through my first summer in the Southeastern United States. I went into the Savannah College of Art and Design's Rising Star program assuming it was a one-time pit stop below the Mason-Dixon Line during the life journey. The goal in mind back then was staying a little closer to some cooler weather via a stint at RISD or Notre Dame for architecture.
Arriving in Savannah the following fall, I figured I'd be down south for five years (long enough to finish that degree) before heading back up north. Those five turned into seven – along with a change in majors. It also led to being able to claim three careers before I turned 25 since those seven ended up being eleven.
I sat on the front steps of the Georgia Historical Society in 2001 with my department chair – a man who started out as a painter – both wondering aloud if the other had ever thought they'd be sitting there looking over into Forsyth Park content with the decisions they'd made up until then in their lives.
The arrival in Birmingham was similar. Eight years ago I promised Betsy we'd only have to be in town for three. I thought I'd be going back to school for a masters degree at Birmingham-Southern and I'd probably end up scoring some gig in North Carolina or DC before it was all said and done.
It's funny how things don't necessarily go the way you think they will. I did interview for the DC gig – on two different occasions, but I'm sitting on the front porch of a house in Norwood with a pretty nice view of Red Mountain in the distance. I never got that masters degree; the program was discontinued before I got the chance to finally apply. I've spent most of the day pounding out a revised plan of attack for a website I'd never had the guts to consider launching right out of college, much less now.
I've still never done my cross-country car trip – but I'll finally get to take the California Zephyr to San Francisco this fall as I continue down that weird path of journalism and urbanism. There's also  a date circled on my calendar for November when I hope to run my first race in nearly five years after reminding myself that my health is supposed to be important.
Last Saturday marked seven years since I decided I'd occasionally share what was going on in my mind online in a chronological format. It's been beneficial at times, though some don't quite get why I put so much out there for others to have to figure out about me.
I've also got friends that still don't quite see the difference between what I write here and what I write over on The Terminal. It's simple. This blog is about life. The commentaries over there are about living life through the prism of Birmingham, AL. It's probably more apparent to me than it is to others. Maybe it would help if I got refocused on both fronts.
I look at why I wanted to start the sites compared to what they've became – and why I'd like to get back to basics. It's what I tend to do at the beginning of a new annual cycle; I try to reassess and make changes accordingly. I've got a feeling some of you do too.
Even when things don't go the way you want them to, they eventually go your way anyway. Every event happens because you made a choice to go in a certain direction. Those choices make you who you are; so long as your gut tells you it's where you're supposed to be, it is.
Whether you feel like turning around the next time you see the lights flashing or not, be comfortable with your decision. It's the best feeling in the world – kind of like the rainfall from that first blog post…
Have you decided to embrace the trains crossing in front of your path?
By the way – thanks for continuing to stop by from time to time over the last seven years. I appreciate it.