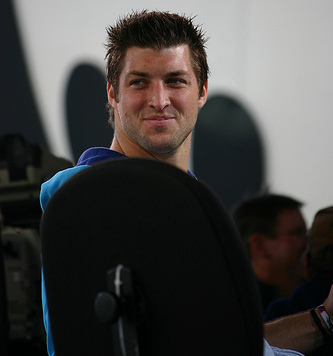 Yesterday football fans were glued to their smartphones, computer screens, and television sets (once they got near one) waiting to see what else could happen in the soap opera that is the NFL's offseason.
Many people were fixated on the punishments handed down by NFL commissioner Roger Goodell on the New Orleans Saints. By the way, I'm with Christine Brennan on this one – it really shouldn't have shocked us. Those of us who proudly claim to be fans of the New York Jets were following the other bit of excitement brought on by the signing of Peyton Manning by the Denver Broncos on Tuesday.
Tim Tebow's trade to the New York Jets was finalized late Wednesday evening, but not without the drama that's embodied the Rex Ryan era (though apparently it wasn't the Jets' fault). It was also an interesting study in people.
I had a few friends comment on my Facebook wall about Tebow's religious overtones and wondering how they'd play in New York City. It's not like it hasn't been an issue already during Tebow's tenure in Denver, even with the insane winning streak at the end of the season.
My response? Take a look at how Mariano Rivera's been treated.
Rivera, the New York Yankees' closer since 1996, is just as devout a Christian as Tebow – and his relationship with New York sports media and the city's rabid fans has been just fine. There are five World Series rings in his possession that no doubt makes it easier for the media to leave his personal life alone and let him live his faith.
Some choose to remind people it's his faith that's helped him be the player Yankees fans love to love. It's just as likely that they don't particularly like to broach the topic with him though, despite the passion he displays as he talks about it and the calmness his faith brings him as he's still throwing 95+ mile per hour cutters at 41 years old.
There's New York Knicks point guard Jeremy Lin (already taking the city by storm) and his proclamations of faith. It started a conversation that I never thought needed to happen growing up in New York. The focus on faith has gone away as the score once again became more important.  Let's not forget Shawn Green and how his decision not to play on Yom Kippur the three times it conflicted with baseball's regular season schedule was received. The media circus stopped making it a big deal after they found the next sensational angle to focus on in someone else's life.
That' the crazy thing about that New York media scene – if the spotlight's not shining on you (or unless it's a slow news day), they really don't mess with you unless they can somehow tie you to why [insert local team's name here]'s not doing well.
The Jets' general manager pretty much laid out the situation on Wednesday night as one that would eventually diffuse concerns anyway. It'll only become an issue if fans start to think Sanchez isn't living up to his new contract extension. But then the real question is which of the three quarterbacks signed steps in…
It's the type of headache you'd like to be dealing with if you're Jets management right now – and probably the one they and their fans will be dealing with more often in the coming months and years.
Photos: ESPNWeekend2011-075. Jeff Kern/Flickr; Mariano Rivera. Keith Allison/Flickr.