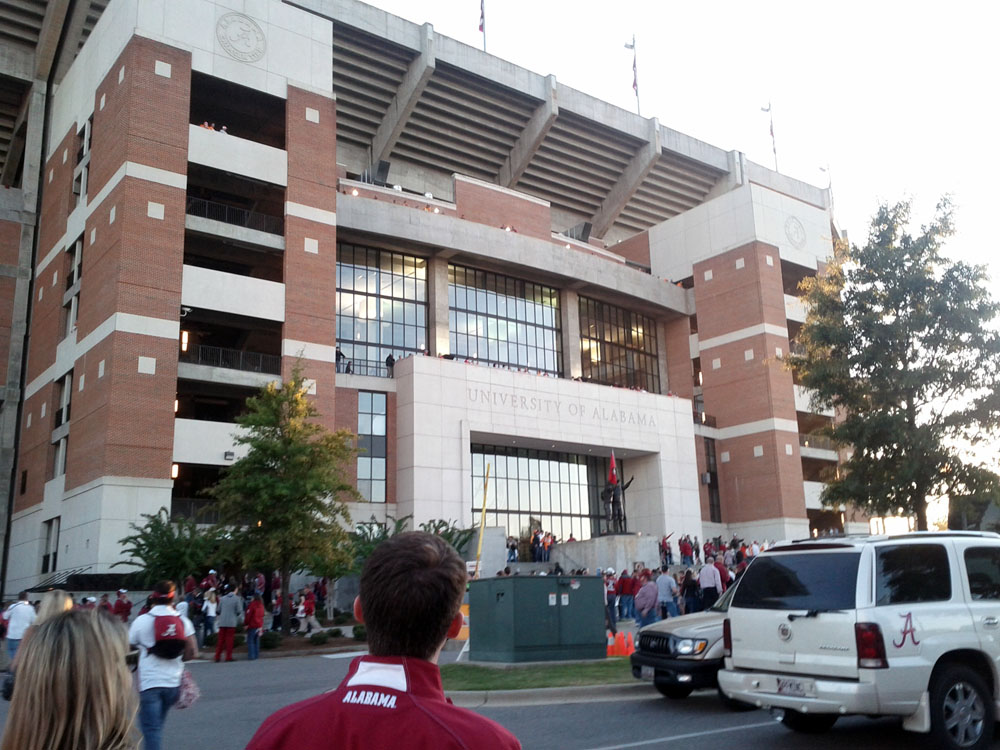 October 22, 2011 was a long time coming in the eyes of many of my friends that are Alabama and Georgia natives – I went to my first ever SEC football game.
Before folks start to wonder, I've been to three UAB football games, the inaugural PapaJohns.com Bowl (now BBVA Compass Bowl) and the first ever Labor Day Golden Classic. The Magic City Classic's still on the list of things to do – I just haven't done it yet.
Of course I couldn't just go to any old game. I had to score a ticket to the game held in this year in Tuscaloosa, AL on the Third Saturday in October – Alabama vs. Tennessee.
Yes, the Tide rolled (more like steamrolled) over the Vols. Yes, I probably have the melody of the Crimson Tide's fight song seared into my brain for the foreseeable future. I also finally understood just how big of a deal Saturdays in the South are – and why many here just don't get how those of us with pro teams can truly call ourselves fans and get away with it.
###
When I first started working as a houseman at the Foley House Inn in 1996 back in Savannah, one of the more memorable guests was a young lady who checked in on a Friday evening in early November. I'd finally gotten comfortable enough to do small talk with guests as I was taking them to their rooms so I remember that she was a teacher in Columbia, SC and that her boyfriend was going to meet her the following morning.
As we're getting her settled in her carriage house room, I asked her why they were visiting. Her answer was a simple one – "The Cocktail Party!"
When I told her I wasn't from the Southeast but the Northeast and didn't really know what she was talking about, she said, "You'll just have to talk to my boyfriend when he gets here."
The following morning I helped him get situated in their room and load up his cooler with ice. I was then told to come back into the room to watch kickoff. My manager had no problem with me doing so since he realized what game it was – Georgia vs. Florida. They'd decided that while they couldn't get to Jacksonville, they wanted to be in Georgia to watch the game.
Those die hard Bulldog fans among my friends still apologize for it being my first time watching the game – Florida won (by a lot). I think I've only missed watching one edition of the Georgia vs. Florida Football Classic since.
###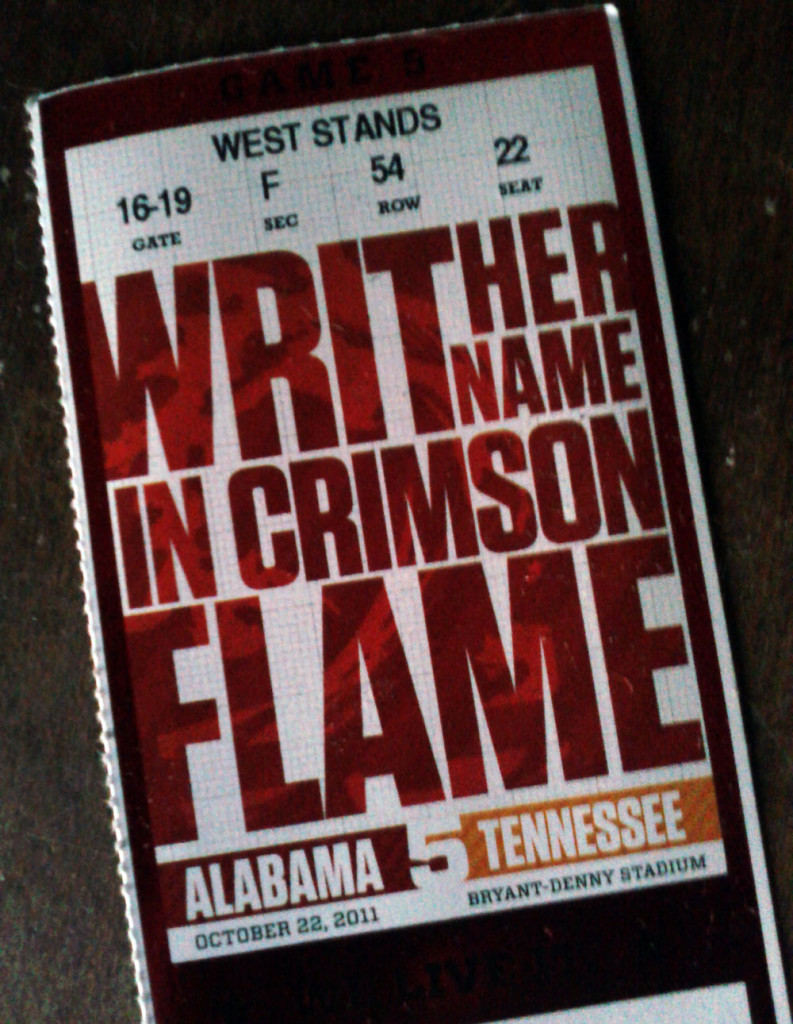 Despite all of those games watched and living in Georgia and Alabama for the last 18 years, I still hadn't seen an SEC football game in person – until October 22.
Wade Smith, one of my old neighbors from our days living downtown (who's responsible for a great renovation project along Second Avenue North) sent me a text late Friday evening asking if I'd be interested in his extra ticket to the Alabama vs. Tennessee game in Tuscaloosa. I've had conversations with him over the years about how I wanted to get at least one SEC football game in under my belt while living in Birmingham. Apparently, he figured this would be a good one. I told him I wouldn't be able to go until after the citywide visioning session that morning; he said no problem.
It was the first time I'd been down there since the April 27 tornadoes; as much as I was excited to go to the game, it was sobering to see how much is left to be done in town as we continue to recover nearly six months later.
It wasn't the first time I'd driven in to town on game day. The last time I was headed to the Kentuck Festival of the Arts. I'd driven down by myself but learned quickly that finding a parking space in downtown Northport on game day when I wasn't heading to the game would be an adventure. I also hadn't seen that much houndstooth before – it was clearly visible in every other car I pulled alongside. Now that I was actually heading towards the game, I realized I hadn't seen anything yet.
We parked this time on campus and I was happy I'd remembered to wear crimson. After wandering through the quad and seeing more flat-panel TVs with HD antennas in one location than I'd ever thought imaginable, we ended up heading over to the Capstone Hotel to meet up with mutual friends of ours and, as a result, with Coach Hal.
Hal has been tailgating in the same location since 1995 and, well, at this point Ill direct you to the tailgate's official website and have you watch the video – it'll probably do him and the tailgate better justice than I ever could. I know stopping by the tailgate again will be on the list of things to do the next time I head down there on game day.
The picture to your right shows the Crimson Tide taking the field at Bryant-Denny Stadium just before the game started. I was sitting in the west stands looking out at 101,820 of my newest friends. Putting this in perspective, the largest crowd that can currently see a Yankees vs. Red Sox game in person is 52,325 – at New Yankee Stadium and only if the ballpark is at full standing room capacity (there were only 49,072 at the game I went to on September 25). If I'm ever lucky enough to watch my beloved New York Jets ever play a home game at Met Life Stadium, I'll still only be there with as many as 82,564 other folks – and Fireman Ed.
Speaking of the Jets, I guess it only appropriate that "Broadway Joe" be in attendance for my first Crimson Tide game. Joe Willie Namath took the field as the honorary captain for the game to a rather loud ovation from the Alabama faithful. It made hearing about the Jets win Sunday night that much more fun.
Even though the game was over long before the final play, we stayed until the end, Wade and I stayed straight through until the last strains of Rammer Jammer Yellow Hammer faded into the night.
My most glaring observation – there's a definite difference between the game as a destination and the game as an event.
I've long used baseball games as an escape from the real world for a few hours. You sit back and let the action come to you – unless you're Ron Washington of the Texas Rangers in the dugout during the World Series. The most standing I did during my recent visit to New York was the standing ovation we gave Mariano Rivera as he entered the game in the ninth (similar to the one he got when he entered for #602). It appeared many of us hadn't been able to thank him for the 602 saves he'd logged in a Yankees uniform or for what he'd done during the season until then. We're not tailgating before every game (though we may meet up for a drink before or after the game at the bar across from the ballpark).
The baseball game is merely part of the day while the SEC football game is the centerpiece of a Saturday in the fall. You're up on your feet for the majority of the game, always on edge about how the next play will change the complexion of the game. It's also about having a ritual – one where you know you'll be able to catch up with others and see people you haven't for a while. It's about a different approach to tradition – one that can make it a little tougher to wait five years between appearances at the home field.
It was a way to realize there's more than one way to keep the energy level up. It's partially been difficult to find new ways to disconnect after several crazy weeks in a row. Perhaps I can't justify driving two hours to the ballpark to go to the game, but maybe I can find a way to find a way to unplug for the day when I really need it. A day around people looking forward to a game may be just the way to do it too…
Cheers.
Photos: Approaching Bryant-Denny Stadium; The Crimson Tide takes the field. acnatta/Flickr