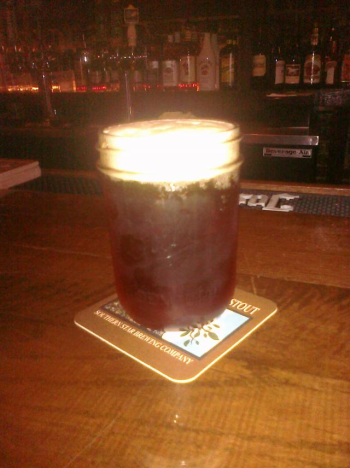 Fourteen folks gathered upstairs at Pale Eddie's Pour House in downtown Birmingham, AL on October 20 to see if there were enough interest in pursuing a Beer & Blog charter.
I'd think it would be safe to say that the group's consensus was to give it a try and see what happens (even if it means having a few meetings and then going through the process).
For the time being you're more than welcome to come on out to Pale Eddie's on Wednesday evenings beginning at 6 p.m. to join in on this experiment and to provide another opportunity to unite Birmingham's blogging community.
Building a community of bloggers may seem like a crazy idea to most.
It's definitely not the craziest idea that I've had.
If you actually stop and think about it though it's not really that crazy at all.
There are other groups that already meet, including the Alabama Bloggers monthly lunchtime meetups organized by Rachel (FYI – the next one is scheduled for November 12) and the Beer & Blog chapter already established by my friend Thom Rigsby up in Huntsville.
I've noticed that we seem to like extensive amounts of structure here in Birmingham – knowing exactly what will happen before we commit to doing a project. This weekly meetup allows for that level of security to be in place while also giving it a chance to bend to the will of those who show up that evening.
There are times when we'll have guest speakers and times when we can take field trips out to see other parts of the community. Some other suggestions include giving folks a better idea of the things going on in the community that may serve as a spark for blog topics.
I've really got no idea of what will happen or of how many folks will show up on Wednesday evenings. You won't know either – unless you come on out and join us on Wednesday evenings starting at 6 p.m.
If you've got a chance, take a moment below in the comments section and let us know what you'd hope to gain from a regular opportunity to gather with fellow bloggers.
Cheers.