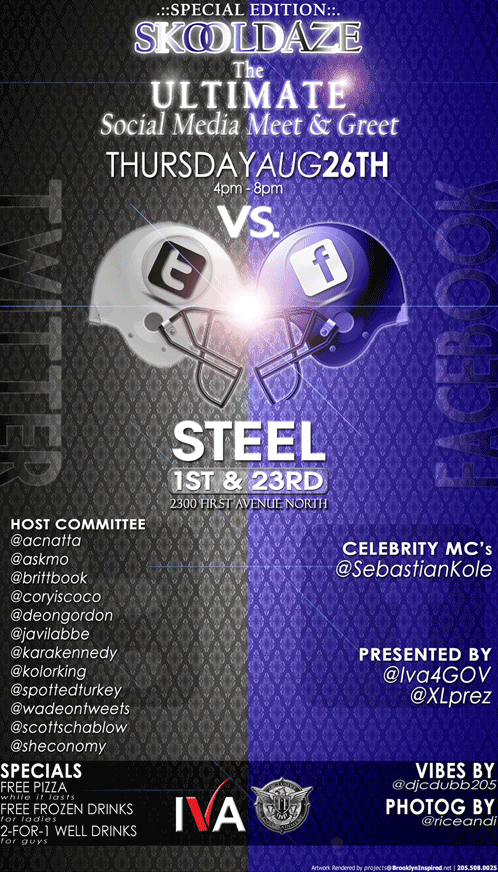 I got a direct message via Twitter from Iva Williams about a month ago asking if I'd be interested in being a part of a social media networking event.
We've talked online a few times but the phone call that followed the initial tweet was enough to get me to do it.
I have this habit of saying that one of the best things about things like blogs, Twitter and Facebook is the idea that they help people stay connected when they're not talking with each other in person.
These online tools allowed me to meet people from all over the place but the ones that I've enjoyed and benefitted from the most are those that I've had the chance to meet or hang out with in real life.
This Thursday a few of us are getting together at Steel (directions via Google) in downtown Birmingham to do just that – meet and hang out in real life. You can see the personality behind the avatar and the Facebook or Twitter updates. You'll get a chance to meet folks that you didn't even know were here in town and maybe even find folks that have similar interests to yours.
Don't think you can't come out and enjoy if you don't use either of these social media platforms; you probably know someone that does and if you don't – that's still no excuse to not show up.
It's free to get in and you'll get a chance to connect with a lot of folks – including a few you've probably never met before.
If this isn't enough to get you there, try out Wade's pitch for size.
Cheers.
Image: Flyer for Thursday's event.