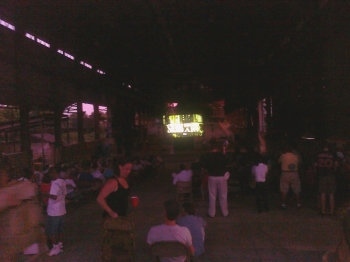 The sound of a train's whistle filled Shed #1 at Birmingham's Sloss Furnaces, competing with the sounds of a city's history echoing through the open ended space from speakers close to the screen on Friday evening.
The picture I've included probably does not do the crowd justice but I hope it shows the level of interest and excitement surrounding the free public premiere of APT's one hour documentary, Sloss: From Industry to Art. It would not be an understatement to say that it was a packed house despite it being one of the hottest evenings of the summer. For many it was the beginning of an incredibly action-packed weekend of choices, ranging from participation in Birmingham's 6th annual Member Day to the 25th annual Function in the Junction allowing thousands to enjoy the sounds influenced by the city's west side.
I don't think I'm exaggerating when I say that I'm sure most of those in attendance will be glued to their televisions at 7 p.m. either tonight (Sunday) or Tuesday evening.
The piece, produced by Chris Holmes, tells the story of how Sloss Furnaces helped build Alabama's largest city via industry, the fight to save the complex from demolition and how it's helping to cast a new vision for The Magic City through its participation in the world of cast iron art.
Those wondering about the impact that Birmingham has nationally and internationally these days despite the constant focus on negativity within its city limits need only take a look at this documentary. It allowed me to think about several ways that the city continues to forge a new path forward and how some choose to fight for what they believe in despite the belief that nothing will ever change…
I'm thinking it's a message that's desperately needed right now. I still think some patience is needed as well.
Hopefully you'll get a chance to watch this incredible piece this week and then you may be willing to share what you thought about the film and what it means to you.
Or you could just answer that question now – heh
Cheers.