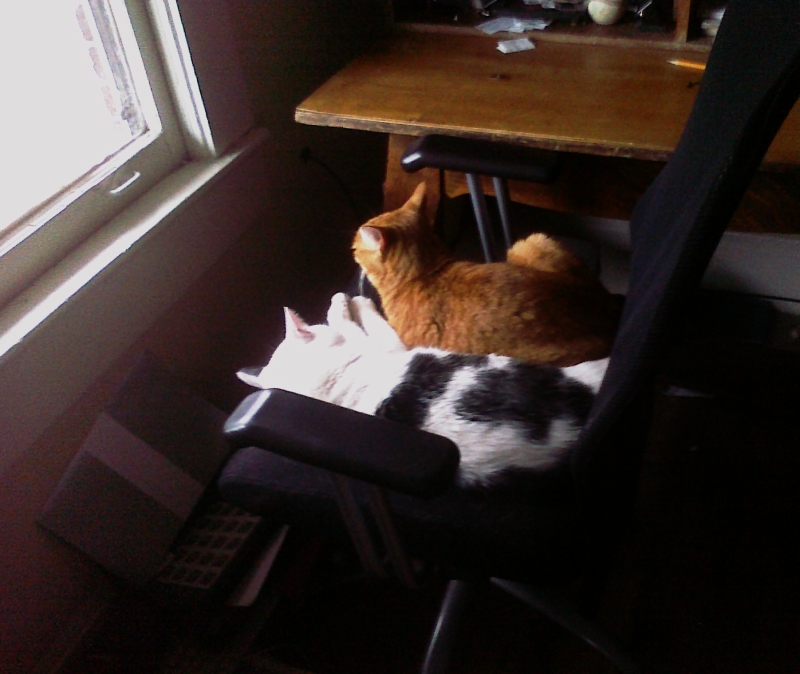 The cats have decided that I'm not going to work from my desk in the home office – at least for the morning.
Normally I'd be sitting at the corner table at The Red Cat (the coffee house now formerly known as o kafé's! – though their website is not yet reflecting the name change announced via email earlier this week) sipping on some green tea and people watching while attempting to get my weekend in order while Friday morning passed me by.
Yesterday's debacle with the car put an end to any plans for that this week, providing a silver lining to my efforts to get to SXSW not coming together from earlier this week (BTW – there's always next year and there may be some pretty cool opportunities to do things later on in the year as well).
The car – a 1999 Buick Regal LS – has seen better days. Honestly, it looks like it's been in more crashes than a car used in a Die Hard movie.
It's latest drama involves the fact that only one windshield wiper is actually feeling like working. The working one (luckily on the driver's side) decided to somehow stick itself between the door and the car door mirror while I'm doing 75 in a rain storm heading to Tuscaloosa. Thankfully it stopped raining long enough to finish the trip and then get home, but now I'm nervous about getting on the road today – especially with the threat of more rain during the morning. I'm happy that it happened close to home and not somewhere during what's a very long car ride (especially when doing it solo) from Birmingham to Austin.
It was a nice reminder that sometimes the best thing that can happen is that what one wants is not necessarily what one gets.
This weekend will probably include a lot of writing since most of the fellowships that I linked to earlier are due at the end of the month. I'm also hoping that someone around town has a copy of License to Drive – I just feel like watching it this weekend.
Hope you've got some great plans for the weekend. Maybe you can share yours here?
Cheers.