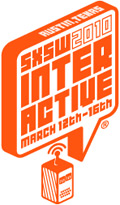 UPDATE 3.12.2010: So I didn't win, though the folks at Media Temple were really cool and invited me to attend one of the VIP parties anyway. Turns out that my car just didn't seem to want to make the trip. Thanks to everybody who went over and "voted" for me.
I've recently been debating about whether or not I should be trying to finally go to Austin this weekend so I could say that I was there during SxSW Interactive (SXSWi) this year.
For those not aware, SXSWi is considered one of the major events for those involved in emerging technologies in the country. For those involved in the world of social media and all that it apparently entails (like myself), it's one of those "you have to do it at least once" experiences.
I didn't say I was "attending" the conference while I was there because it just didn't look like it would possibly be in the cards. The money is just not there right now to pay for conference badge or to get there and the idea of going out of town around the time of the third anniversary of The Terminal just didn't seem to make any sense. So I'd figured I resign myself to missing yet another year…
Until this afternoon.
That's when Media Temple announced that they'll give away two (2) full conference passes to the two contributors to their fan page's wall on Facebook that receive the most comments by tomorrow. They're also throwing in a VIP pass each to their big party at the festival.
If I was able to score one of the passes I'd finally be able to do a few things. Among them:
Say that I attended SXSWi
I'd get a chance to go to Andrew Huff's panel discussion about the future of online news and get a chance to meet Jeremy Zilar in person.
I get to check out Brandon Sheats' and Maurice Cherry's panels too.
Get a chance to find inspiration for a new approach to The Terminal and other projects.
Learn things to help me become a better digital communicator.
Have fun in Austin (and visit with some friends from college as well)!
So of course, I'm going to try and I'm asking for some help from you.
I'm going to ask you to visit my wall post to their page and add a comment of support to it. They say that they'll be announcing the winner come Wednesday afternoon, so we'll know by then if I get to go fairly soon.
NOTE: I'm pretty sure that you'll need to become a fan of Media Temple in order to add your words of support if you aren't already one. They're a great hosting service and they'd be cool to follow but I understand if you don't want to.
I'll worry about just how I'll get there and where I'll stay come Wednesday night if I'm able to pull this off.  I'm just grateful for any support that I may be able to get. I promise I'll share the adventures here on the Ramblings too.
We'll see what happens though…
Cheers.