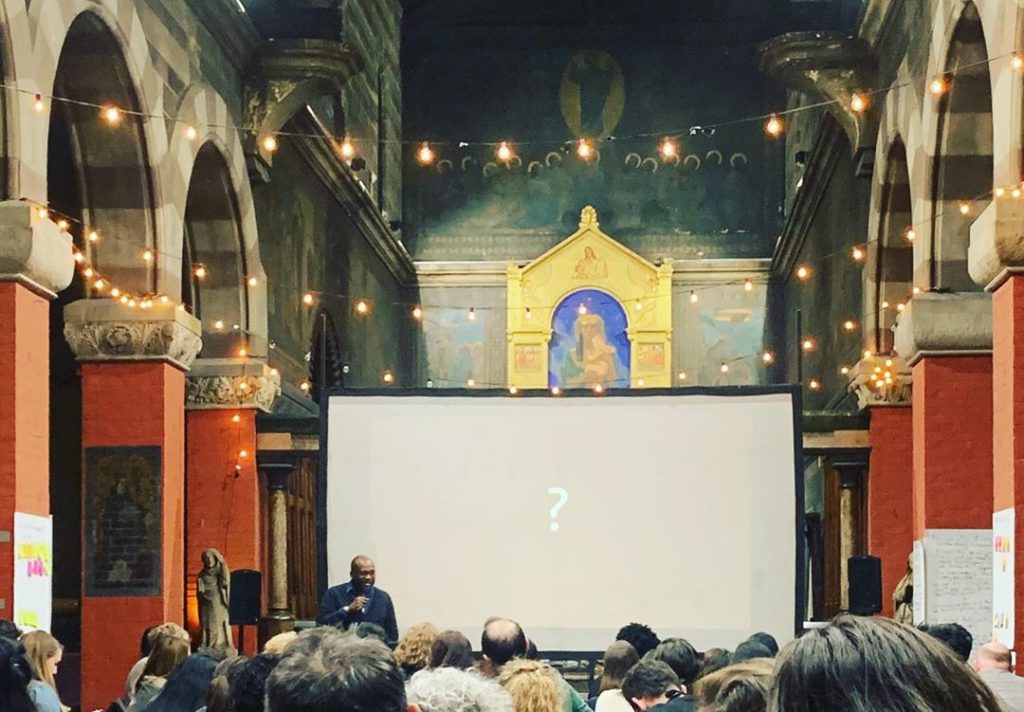 I was asked to give a talk about networks, both known and unknown, as part of SRCCON:LEAD, a "mini-conference" organized by OpenNews on November 19-20, 2019. Below is the text I prepared for the talk. There's also a live transcript of what I actually said as the text below was used as a guide. 
---
I have no idea what I'm doing up here today.
Well, that's not completely true. I took a phone call from Ryan Pitts while I was sitting on the Pennsylvanian heading toward New York City less than two weeks before starting this new job of mine at Resolve Philadelphia and my mind wasn't exactly focused on what he was asking me when I said, "Yes."
It was focused on taking care of my mother for the weekend up in the Bronx. I was trying to get myself prepared for the one-liners the former neonatal intensive care nurse was going to give me while there.
We serve others first and foremost when we lead, providing an example of how to be human above the need to be superior. This is what I find myself thinking when I start to ponder what it means to be in a position of influence, a position where I can spark change – and journalism is in need of change.
For me, it means remembering "I didn't get here on my own and I can't stay here on my own."
I think about my dad in these instances. I don't talk to my dad very often nowadays, but I remember what it was like growing up and seeing how he was with his friends and family. They served as a backbone, a support network. It didn't matter a lot growing up, but they were so representative of what I saw as possible as a leader, even though they didn't wear their titles on their sleeves.
Despite finding myself looking for comfort and confidence in a position, I've also found myself unconsciously looking for those things elsewhere as I've moved through life. It's resulted in both personal and professional communities where I've been given space to learn how to lead by remembering it's about how you do.
We spend a lot of time trying to figure things out on our own instead of getting a better understanding of what it takes to lead. It's not popular to ask for help, but it's more important to recognize you're not supposed to be doing this on your own. It's OK to lean on other people and take in lessons.

It means figuring out what you bring to the table and finding the confidence to lean into those experiences, even when others will want to put you in a place where they see fit. It means leaning into those countless Wednesday evenings when a band of digital journalists continued to produce a weekly miracle to serve their industry.
It means being vulnerable – something we often don't like to talk about in leadership. One of the most powerful phrases a leader can say is, "I don't know." It's hard to find a space where you can say those words and not feel judged.
There is never a time where you can't ask for help, especially if you've let yourself get to know people and vice versa. The members of my various cohorts are an extended family. It is not always the picture of perfection, but it is a space from which you can find strength and confidence to tackle the challenges ahead, both personal and professional.
What happens when I don't remember these life lessons in community?
November 5, 2015.
It wasn't the most debilitating of my string of chest pains, they just happened to be the ones occurring just before I was scheduled to work my first public event for WBHM manning their digital accounts. I remember my news director Rachel Lindley seeing me slumped over on a table, putting me into a chair with wheels, rolling me through the halls of WorkPlay past event attendees, the end of happy hour, and concertgoers to a waiting car where my girlfriend was told I was going to the emergency room, no ifs, ands, or buts.
Looking back, I now know why I was experiencing anxiety attacks. I'd spent nearly two hours a few weeks earlier having an extended and exhausting conversation with representatives at Advance Digital's Alabama Media Group in my role as president of the Birmingham Association of Black Journalists after they'd let their last Black beat reporter go in their latest round of layoffs. Yet another occurred on the plane as I flew to Austin for a conference thinking about a trademark case that didn't involve me, but froze any opportunity to liquidate the t-shirts associated with my hyperlocal site, The Terminal, knowing I'd had a rough time of things in recent month. I didn't know who to turn toward for help.
I pushed out a tweet… and then I pushed out a photo on Instagram. Then, I got a message from Kim Bui. We spent the better part of the next two hours talking via text as she attempted to help me stay calm before they told me it was one of the worst cases of anxiety they'd seen in some time.
These relationships cannot be only transactional or extractive. I've had conversations with those who are focused on why journalism's role is to preserve democracy, making it a case of an "us versus them" battle. The greater battle is remembering the importance of our role in providing an infrastructure for society and communities to function. If we remember our role in leading – in whatever way it manifests itself in our field – is to help direct and support others instead of dictating from on high and isolating. May we not become so wedded to performing for others that we forget the reason and purpose behind what we do in the first place.
If you can lean into the networks and communities you're a part of to remember what it means to lead, it might you remember how to be more empathetic – both inside and outside of the newsroom. I'd argue those students at Northwestern taught us a lot about what we should be considering and not just what is "supposed to happen."
It also becomes easier to live out some words a friend of mine from college wrote a few years ago:

So when the world knocks at your front door
Clutch the knob tightly and open on up
And run forward and far into its widespread, greeting arms
With your hands outstretched before you
Fingertips trembling, though they may be.
What will you let yourself learn from your networks? Your communities? It's more important than ever for us to try.
Thank you.