When I wrote yesterday that I figured I'd find a way to write about my addiction to live baseball games, I didn't think it would come up so soon. There's a specific pair of visits, but first, the prompt: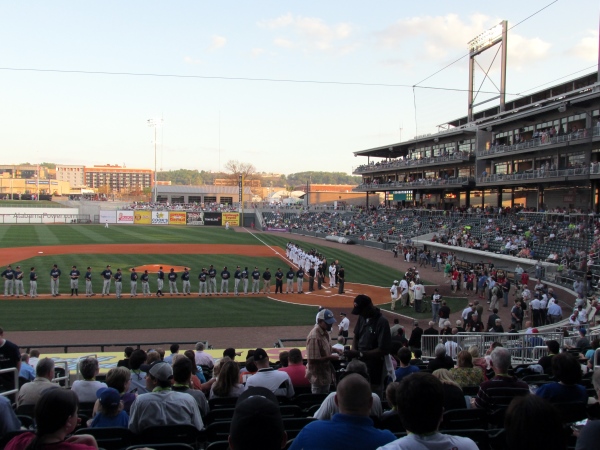 One of Birmingham, AL's nicknames is "The Magic City" – one earned from its sudden emergence and growth in the heart of Jones Valley nearly 150 years ago. The April 10 opening of the new home of the Birmingham Barons will probably go down as one of the more magical moments in the city's year. It also meant the return of easy access to what has once again become my greatest escape from the rest of the world.
Baseball is an escape for me. I honestly don't care if it takes three hours or not – Yankees/Red Sox games notwithstanding. (That's about how long most football games last anyway.) I don't necessarily need to see action every second. I like stats, summer afternoons in the bleachers, and the individuality of ballparks. I grew up going to Yankee Stadium; got to practice as a collegiate player at Grayson Stadium; and spent lunchtime on my first day of work in Birmingham (and several times since) sitting in the first base dugout at Rickwood Field. I would normally see about twenty (20) games a year on average before moving here. I'd also never physically lived more than 3.3 miles from a professional baseball team's home park until Birmingham.
I found my love of the game didn't necessarily jive with a 30 minute trip to the Hoover Met by car. (For the record, it's between 20-25 minutes by bus/train/foot to get from the childhood home in the Bronx to Yankee Stadium). Until Opening Day this year, I'd been to eight games in less than eight years total while a Birmingham resident. Looking back it's probably why visiting MLB ballparks became a fun part of recent extended trips to journalism conferences in late September.
Opening Night at Regions Field didn't just mean that baseball was back in Birmingham; it was back within reach when things got too stressful. It was a welcome Christmas gift from John over at Bhamwiki I didn't really know I needed. The view was great as was the outcome.
Most importantly, it was the first time in years I felt I'd had a chance to unplug from expectations and lose myself in between the foul lines.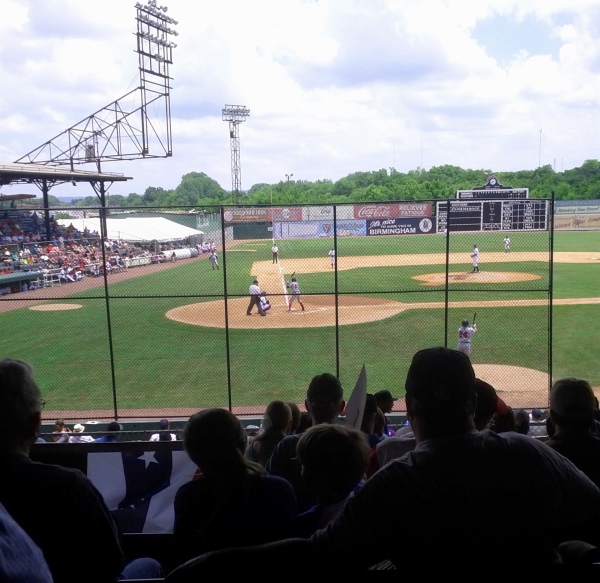 The opening of the new ballpark downtown also brought with it the opportunity to do something that may never happen again in my lifetime. I was able to spend portions of a 48-hour period in America's oldest and newest ballparks – both located in the same U.S. city. The home team won the first game, the annual afternoon affair at Rickwood and pictured to your right, but lost the second (played the following night). I didn't really care about the score (well, maybe a little), but more about that pace and rhythm that comes with being at the game in person.
The White Sox Triple A affiliate is scheduled to move into a new ballpark this spring in uptown Charlotte. It opens up the possibility to see three games in a row on a raucous road trip – one that gives anyone able to pull it off the chance to see games in the oldest and newest ballparks in America for two years in a row (depending on the schedules). The most unique part of the experience? It'd be the second year in a row where the two ballparks in question are associated with the same MLB parent club. Add in a trip to Chicago and the possibility you'd see the Double A, Triple A, and "big club" in one week? That'd be nice.
After all, I did see 19 games last season – and I enjoyed seeing the sun shine down on me almost every time…