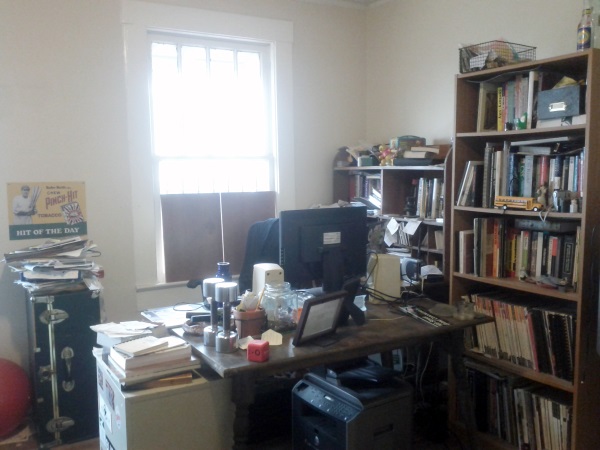 A case could be made that I've had as many home offices as David Letterman's Top Ten List. While not nearly as funny as the late night staple, the concept has apparently become an important staple in my life since moving down south. There are some though whom may question the significance of maintaining one at home since I'm "always" out at an area coffee house.
Over the years, through trial and error, I've learned I work best in a fairly quiet space. Those who see me out at coffee houses throughout the metro area do see me doing work, but it's mainly emails, conversations so I don't go insane at home, and general brainstorming. It's not how everybody approaches work, but it's working for me so far in 2013.
If you want to see me attack a problem and produce, you'll have to come by the house and hope I haven't closed the door to keep Boomer out of the room.
It's not like I've always made good use of my home offices. My first apartment in Savannah afforded me two different options for such an amenity. I started out having a space set up at the front of the space. It made it easier to hear the television in the living room and easier to know if someone was at the front door. Having a four year old living next door meant plenty of afternoons of eyes peering through my mail slot wondering if "the college student" was home.
I eventually moved it to the back, meaning there were sliding doors with lots of light opening onto the courtyard. It gave me the opportunity to focus more on work. I also got to enjoy the sweet smell of azaleas come March. There have been others, including: one overlooking a backyard that was more galley than office; one I had to share with Betsy (that didn't last very long); and one "carved out" of the living space at our first loft with a kick-ass view of Vulcan and the City Federal sign. Most of those had a big problem though – they weren't that productive a space for me.
The current home office is located in the bedroom at the top of the stairs of the house we currently lease. It's the largest office I've ever occupied – save for one in college – and I probably treat it more like a writing hut – albeit one with a pretty nice broadband connection. There are books – lots of books – related to urbanism and historical research of cities and Trinidad.
The first piece of furniture I ever bought on my own, a modified desk with a hutch, sits off to my left as my original dining table serves as my writing and typing surface. Boomer has his own chair – from and courtesy of my days at The Eliza Thompson House (and no, it's not associated with this Eliza) – so he can pass out if he makes it inside of the inner sanctum. If he's not so lucky, I may use the chair as an escape from the computer screen for reading or meditation.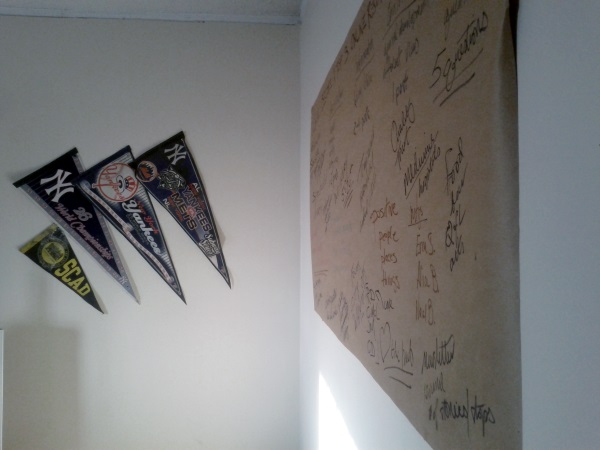 The wall behind the chair, and in my line of sight, regularly gets covered in unrolled sheets of brown craft paper for note making and brainstorming. It's probably a hold over from my days at SDRA and from college – keeping ideas in your brain does no one any good. The craft paper also means I can save it if needed to reference and review at a later date. I keep a few pennants nearby for inspiration and just because I do want the room to be mine.
I've been inspired by the writing and sharing taking place over on Streamlining Birmingham (particularly this post by Erin Shaw Street) to think about how I want this space to become more useful in the coming months. I've got an itch to scan a significant portion of the papers currently kept on the shelves and placing the ones worth keeping in binders – potentially even in the office closet. I've also got a few photos I started scanning a couple of years ago onto the old laptop that probably need to be archived for use on this site and elsewhere.  The space will undoubtedly change as I start doing some more video posts this year as well.
It does make for a lonely working environment, save for the occasional Google+ hangout or an exchange via Twitter or Facebook, but it's been even more helpful as I've been tackling my three words for 2013. I'm not going to be cutting back from coffee houses completely – I'll just be there even less often than people already think I am. The results are pretty good so far, so I'm not complaining…
What gets you in the mood to work anyway? Can you fully function in a coffee house or do you need an escape hatch?