Last Saturday I hit Interstate 59 extremely early with Jeff  Vreeland and Wade Kwon to Chattanooga, TN to take part in the first ever BarCamp Chattanooga. For those of you unfamiliar with what a BarCamp is, here's a definition.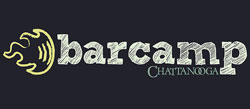 The unconference took place on the campus of Chattanooga State Technical College and had 75 folks attend from all over the region. One of the highlights of the trip was meeting the folks that run hyperlocal blogs in Chattanooga (Chattarati), Knoxville (Knoxify) and Nashville (Nashvillest). I found out after we arrived that I was taking part in one of the first sessions of the day, a panel discussion about hyperlocal blogging with the folks that created those sites (it's about 50 minutes long). Not knowing that I was going to be speaking actually meant it was the most relaxed I'd been in front of an audience in some time. The conversation that we got into after the session about what all of us face as new media in our respective cities was definitely a highlight of the day and the hope from all of us what that the conversations should and hopefully will continue in the future.
I gave one other presentation (sans slides) about #bhamchat, the online conversation that I host using bhamterminal.com's Twitter account on Tuesday evenings (I'm working on creating a slide deck to share this weekend) and had another conversation with Todd McCalla and his sister about Ohio before deciding that I'd pick Brett Bumeter's brain on the way over to the after-party. What comes up next is probably one of the best parts of the trip:
The discovery of a microbrewery called The Terminal. The Terminal Brewhouse that is.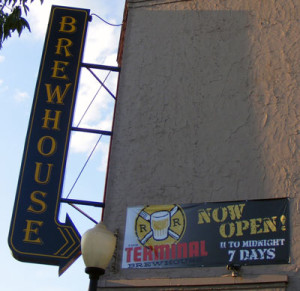 Yep, it's true; it's located right next to the Chattanooga Choo Choo. Yes, I know that it seems that I'm writing a lot of about the microbreweries that I get to visit nowadays, but it's not necessarily on purpose (and hopefully a return to consistent posting awaits, a well as a really personal theme – but I digress). I'd actually remembered the building from my only other real trip to The Scenic City with Betsy. We'd talked about how cool it would have been to see the building renovated. Well, I got to see the building renovated – and packed full of patrons! The menu was pretty cool, as was the beer! I had their American Pale Ale – called the Terminally Ale (we may need to figure out a way to get some down here for a Terminally Happy Hour). I'm also thinking about how I can do a t-shirt trade with them, since all of the servers were wondering about my Terminal T-shirt.
Overall it was a fun trip, making me wonder if that elusive multi-day vacation that I haven't taken in 5 years needs to only be up the road a couple of hours when it finally becomes a viable option. I figure I could eat my way through town with stops at The Blue Plate and Clumpies too.
Something not lost on me during my trip was the way that the city looks and what it's become. It's nice to get out of your normal "element" from time to time and help yourself take in a different point of view. BarCamps and other types of conferences are one way to do just that. Chattanooga continues to set a pace for folks across the South to look at, though to believe that everything there is absolutely perfect would be to not be looking at the online chatter, including Chattarati and Chattanooga Stand. Healthy introspection is extremely important, you just want to be sure that you're trying to help fix the problem instead of adding to the issues and luckily they have the outlets for this to happen.
Hopefully it's given me an inspiration for not only a potential National Trust Main Streets Conference topic for May if it's accepted but a pretty good idea for a Knight Foundation News Challenge grant proposal to submit to The Garage, building on the one that I already had.
Don't worry, I'll be sharing both soon…