It's been years since I've opened my eyes on Christmas morning to look onto an empty house (cats notwithstanding). I've become accustomed to the obligatory cup of coffee (which until recently I'd been ordered to stay away from), listening to the sounds of the season on the radio and finding that one television station still brave enough to stick an image of a log on the screen for 12 hours.
This year there was no tree to drop leaves on the floor of the loft; no phone calls coming into the house. Just a demand from Boomer to feed him (with Ed watching on to see if he'd be successful) and suddenly a realization that I had not bought anything for myself to eat this morning.
Now growing up in the city that never sleeps, the idea that something will be open on a holiday is a given, though it is still not as easy as some would think to find the places that are open. With Bets in Ohio, I was left to figure out a game plan. One hour and an interesting drive through town made me realize that it was even tougher to find a place open in Birmingham.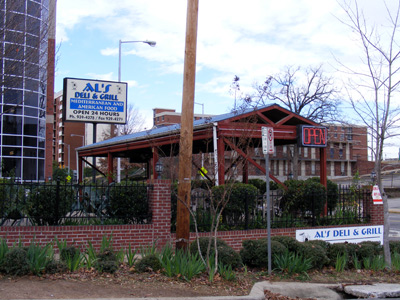 Now I eventually figured out that there were only two places that I found open for breakfast in the greater downtown area. One of them is pictured above, Al's Deli and Grill is a 24-hour restaurant that serves Mediterranean and American food. It's not the one I ended up at. No, I stumbled across the option that I should have thought of first towards the end of my scenic drive through what could best be described as a ghost town – the Waffle House near the UAB campus on Southside.
Now once inside the restaurant itself looked nothing like its surroundings – it was bustling with dozens of folks who'd all made the same discovery that I had. Many of us were ordering steaks and waffles, probably a holiday treat unto itself (I know it was for me). There were families enjoying breakfast together, though spread out throughout the restaurant; there were guys like me just eating and watching the bustle and activity around them.
The craziest thing about my visit was not the fact that I ended up scoring an extra order of hashbrowns because they'd forgotten to scatter, smother and cover the first one. It was the fact that as I drove away I'd realized it was the first time I'd ever used plastic to pay for a meal at what at one point and time in my life was a staple on Thursday or Friday mornings (extremely early) while living in Savannah.
The thought that ran through my mind while watching them was the same one that probably ran through folks minds as they would talk to me on Christmas during my days as a desk clerk in Savannah – what were they not able to do with their families today? Did it really bother them if they didn't celebrate Christmas? I hope they're getting compensated well for working on all of us demanding folks today (OK, so maybe no so much the last one, but it was one I always thought about…).
I only hope that those folks know how much we appreciate their working today. I know I did.
Enjoy the holiday however you spend it.
Cheers.