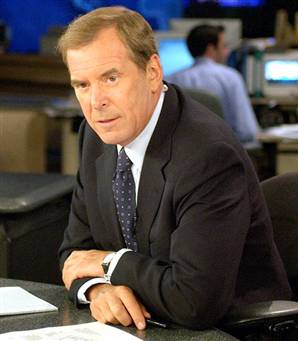 There are two people that have influenced the way that I view the world and major national events that have taken place in my life so far. One is currently enjoying retirement, though still working at an insane pace for someone who was looking for a more relaxed approach to life. The other seems to have been taken away too soon.
Tom Brokaw and Peter Jennings both heavily shaped how I viewed the world, almost as much as my father buying at one point The New York Times , Daily News and (then) New York Newsday papers every Sunday and both of my parents encouraging us to not just read the comics (though it's still the best part!), but as much as our young brains could comprehend. While attempting to understand the paper was interesting, thinking back to watching these larger than life figures as they brought the world into my living room serves as a reason to still be curious about seeing the world with all its faults and glorys more than anything else. As I've listened to the tributes for Mr. Jennings today on both television and internet, it became easy to remember when each person's influence took shape. It's verification of what has been said on air about the differences between the Big 3 news anchors.
I turned to Dan Rather when I sought folksy takes on the presidential election night coverages that I've lived through so far. I became a much bigger fan of Mr. Brokaw's while living in Savannah, where I sought to become more familiar with this country of my birth and my mind wanted to travel the "blue highways" talked about by William Least Heat-Moon in his book of the same name. He provided the ability to do so while keeping up with the news of the day and learning about the country's "greatest generation," those that allowed my family to be able to be here seeking their out dreams, at the same time. Mr. Jennings was different.
I gravitated to Mr. Jennings when I wanted to know what the opinion may be in New York or other larger cities. When I wanted to hear a measured, deliberate opinion, I turned to him. It stands to reason that I watched him most of the time growing up in New York and again as I began to settle into life in Birmingham. He spoke with an eloquence that never seemed to make us, his viewers, feel inferior. He spoke with a passion so strong that you knew he lived for the stories he was bringing to our awareness and that there was a genuine interest in getting it as fair and balanced as he could. He never stopped learning and was open to new ideas, and passed those lessons onto those that were interested.
The advent of 24 hour news channels and the internet has clouded the image of what our journalists are supposed to be. Adding the expanded world of tabloid and gossip news in the name of journalism muddies the water even more. Their job is still to try to get it right. I was told recently that no one ever does get it right, so stop trying. Mr. Jennings was proof that getting it as right as he could was still important. With all of the sensationalism that exists in the modern day newsroom, it appeared that it was not necessarily the case at 6 p.m. ET on ABC stations. On September 11, I watched Mr. Jennings tell me what was going on in my hometown. I watched him as they processed Princess Diana through the streets early in the morning stateside. I watched him attempt to guide the country through Y2K. I trusted him. I can only hope to be trusted by the people I serve in my job and in everything else that I do even half as much as he was.
I must admit that I have returned to NBC and to Brian Williams to be my eyes and ears to the world in these recent months. He's earned my attention; he's likely to earn my trust as well, in part due to the respect that he has for the men that have made this dream job of his possible. It's a job that I had aspirations of attempting in my youth, wanting to explore the world and one that I guess I get to do now as an amateur through this; sharing my opinion while hoping to get the facts right so that others can provide their own opinion. Maybe I'll earn that trust someday too. Mr. Jennings earned it, and he "…will never come again." America should be sad because of it.
Photo: Courtesy of ABC News website