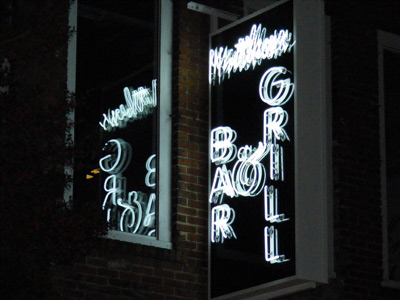 The neon sign on Morris Avenue.
What better way to start the New Year than with a real return to posting new additions to the Neon in Birmingham series. First up in 2008 is one of the newest signs in town, belonging to Matthew's Bar & Grill (2208 Morris Avenue) in Birmingham's Central City neighborhood. The restaurant and bar opened up just before this year's Artwalk on Morris Avenue, providing another option for folks in the city's loft district (something for which I'm extremely grateful – especially since its only a block away from the homestead).
We're still working on the new Neon in Birmingham homepage, but you can still check it out here. Of course you're always welcome to check out the series' Flickr set as well.
Cheers.