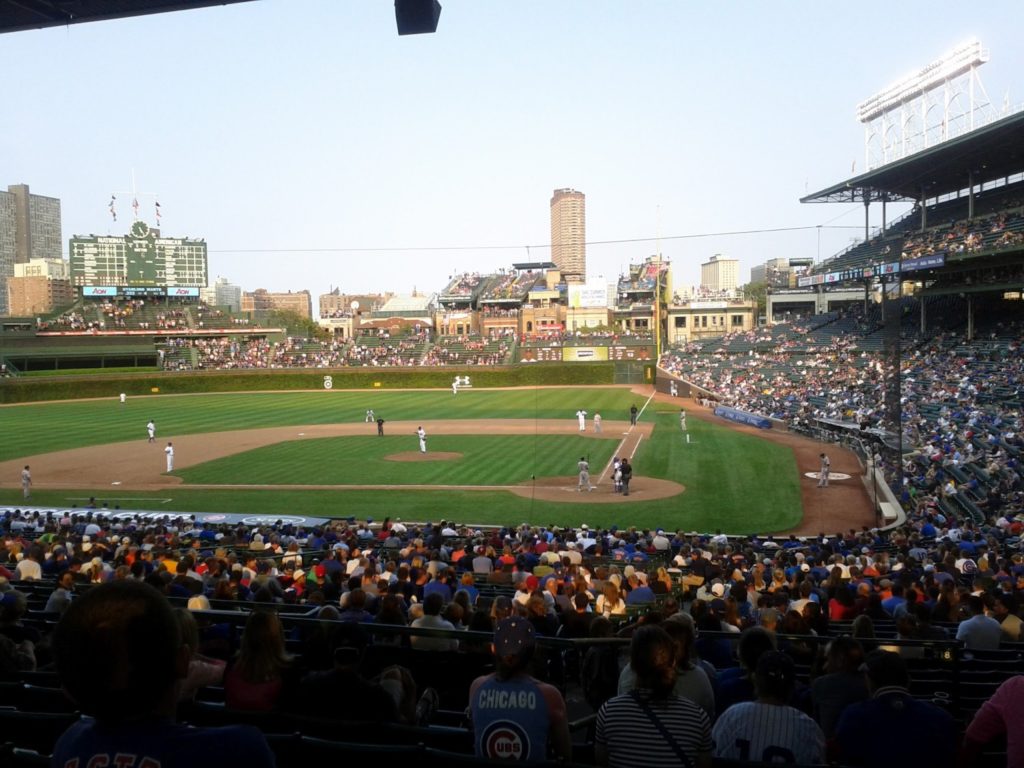 When Game 5 of the 2016 World Series begins on Sunday evening, this Yankees fan will be rooting for the Chicago Cubs to win one for the Wrigley faithful. It's not as far-fetched as it seems either.
The days before cable in the Bronx
A perk of growing up on the top floor of a building atop the highest naturally-occurring point in New York City was the view. I tell people I never knew what the official Yankees home schedule looked like until after attending my first game in 1990. I'd just go to my parents' bedroom window and see if the lights were on. If they were, I'd turn on WPIX and listen to Phil Rizzuto and Bill White tell me what I needed to know. On a clear day, one could also see the neon lights on Shea or watch planes take off and land from LaGuardia. (You'd think I'd like flying…)
The 1988 off-season changed things. That's when Yankees fans learned we'd be getting fewer games shown on "free TV" and more shown on MSG. Cable was still a relatively new thing in New York, and the Bronx wasn't scheduled to get cable for a few more years. Fordham Hill enjoyed access to satellite television service since 1984, but MSG was not an option offered. It was owned by the local cable company, Cablevision. This meant Bronxites couldn't watch as many games as they once could. The introduction of John Sterling as the primary voice of the team on radio lessened the blow, but it did make it tough for the fans in the team's home borough to truly embrace them as their own. This is despite excessive attempts to get us into the ballpark. It meant many Yankees fans had to look elsewhere for their visual fix – and it normally meant one not including the Mets.
Learning to love Chicago
I'd already been "cheating" on my hometown team because of our ability to receive WGN. Prior to 1988, it meant seeing Harry Caray and Steve Stone calling Cubs games on sunny afternoons from the Friendly Confines via Chicago's former superstation. The installation of lights atop Wrigley simply made it harder to decide which team to watch on some nights. The Cubs starting shortstop, Shawon Dunston, is a Brooklyn native and a former number one draft pick. His presence on the team didn't hurt either.
The 1989 Yankees weren't that good. They were terrible. The 1989 Cubs, on the other hand, were just plain fun to watch. They also had a legitimate chance to win a pennant. Watching how Cubs fans would react to each game was a stark contrast to the Bronx Zoo and the idea of a team needing to win every single day. The pressure of winning it every day just didn't seem to be there like it was in the Bronx (or even in Queens). They were not happy when they lost, but Cubs fans loved their team.There was some joy watching Cubs fans cheer the rise and fall of the Shawon-o-Meter and wondering if Mark Grace could dig out one of those cannon-like throws he'd launch from across the diamond on occasion.
They lost out on representing the National League to the San Francisco Giants, but not before endearing themselves to many of the same people openly "hopping on the bandwagon" this time. It's led some of us to want to visit Chicago and the ballpark if only to see the continuing effort to please and believe in next year first hand.
Making the pilgrimage
I've only seen one Cubs game in person, but I've been to Wrigley Field twice. My first visit found me watching "Ferris Bueller's Day Off" from just under the historic scoreboard in center field (leading to my ability to claim participation in and partial ownership of a Guinness World Record). The game I finally attended found them playing the Pirates near the end of the 2012 season. They were down 6-1 by the fifth inning. They won the game 13-9. Anthony Rizzo hit two monster home runs in the victory — including his first career grand slam.
I sat next to a couple holding season tickets since just before they'd married. The game was fun to watch, but so were their stories about Chicago and the Cubs. I got to see a friend from high school in uniform as the interim hitting coach for the Cubs. He ended up getting the job for the following season. It was his birthday weekend. I saw the emotional roller coaster of "we're going to find a way to lose" to"I can't believe we won." It hadn't been a great season for them, but there was still an excitement surrounding this team. It was still fun to be at the ballpark.
Watching the Cubs while growing up helped me learn to just love baseball. I'd rather watch the game critically, saving the smack talk for others. The pressure of winning it every day just didn't seem to be there like it was in the Bronx (or even in Queens). There's a patience I associate with them that's not about blind acceptance but the possibility resulting from embracing it former commissioner Giamatti once eloquently described.
It's probably why I'll be celebrating what this team did in Chicago this season regardless of the final outcome of the series. I'm content seeing them on my television screen in late October knowing that "wait 'till next year" has taken on new meaning at Clark and Addison.
Plus, now we've got a Schwarb-O-Meter to check in on from time to time.
---
Also published on Medium.